Mark Lanegan at Sky Church, EMP, 10/13/00, from earpollution.com
review and photo by Craig Young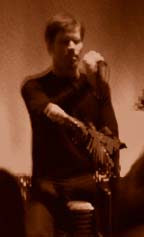 Tonight's performance was the kick-off to Experience Music Project's Northwest Passage Concert Series, a series of five concerts in EMP's Sky Church featuring such Northwest luminaries as The Supersuckers, Carrie Akre and tonight's headliner, the indomitable Mark Lanegan. The massive headroom in the Sky Church, along with its giant video screen backdrop and overhead rotating rock icon slideshow, made any kind of venue intimacy impossible. The fact that it was sponsored by Budweiser, with every audience member properly tagged with a Bud wristband and no other beverage available except theirs (not even water), and with EMP's Ultra-Mega-Delta-Blue security force patrolling the venue with their Jr. G-Man headsets further diluted the proceedings.
However, none of that was enough to stifle an amazing performance by Lanegan, whose voice, health and spirit was in top form. Backed by Seattle native and former Guns 'n' Roses bassist Duff McKagan (who opened up the night with Dave Dederer as The Gentlemen), Ben Shepherd, and Lanegan's brother-in-arms Mike Johnson (who, as well, played an earlier set), Lanegan and company strummed through an acoustic set that spanned eleven years and four solo albums--in the process bringing some much needed warmth and intimacy back into the venue. Gracing the audience with the likes of "River Rise," "Ba Dee Da," "On Jesus' Program," "Bell Black Ocean" and "The Winding Sheet" (which slid into "Because of This"), Lanegan could have been reciting an eye chart and it still would have sounded incredible. He apologized for the lack of intimacy in the venue and for the short notice with which his backing band had come together and practiced for this, but it made no difference. Where they occasionally slipped, Lanegan's affecting voice drew them tight.
Brushing by an hour, the quartet halted to go outside for a smoke, with Lanegan and Johnson returning to encore with "Mockingbirds" and a simply beautiful version of "Last One in the World." But before the stage even had time to cool after his performance, EMP rudely fired up the video screen and began booming house music at twice and again the volume of Lanegan's set. Uh...thanks.
Mark, Mike and Ben would go on to play a similar set the following night at the Baltic Room as The Jelly Doughnuts, where the music would not be overshadowed by the venue. The Northwest Passage Series lineup and the desire to showcase local musicians, whose art has been influential both near and far, is a great thing and should be praised. Nonetheless, Friday's performance left me wondering if the cold circuitry of EMP is the place for it to be celebrated.
-Craig Young