New York Times, December 5 1999
When Singers of Their Own Songs Record Others´
By ANTHONY DeCURTIS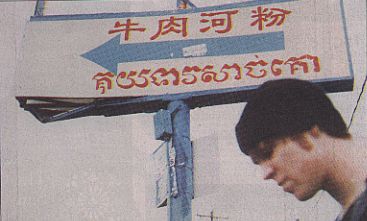 photo by Charles Peterson
In a 1984 Rolling Stone interview, Bob Dylan complained about the disappearance of the folk tradition. "Nowadays, you go to see a folk singer -- what's the folk singer doin'?" he asked, exasperated. "He's singin' all his own songs. That ain't no folk singer. Folk singers sing those old folk songs, ballads." A moment later he returned to his point: "I was tellin' somebody that thing about when you go to see a folk singer now, you hear somebody singin' his own songs. And the person says, 'Yeah, well, you started that.' And in a sense, it's true."
In every sense, it's true. Dylan started out singing other people's material, but by the mid '60s, his own songs -- in their poetic ambition, thematic boldness and sheer length -- had redefined the possibilities of popular songwriting. After that it essentially became impossible for any performer who wanted to be taken seriously -- in rock 'n' roll, as well as folk -- not to write his own songs. Of course, a singer writing his own songs was hardly unheard of before Dylan -- Woody Guthrie, Muddy Waters, Hank Williams, Chuck Berry, Buddy Holly and Dylan's contemporaries, the Beatles, all primarily performed their own material.
But Dylan's impact was so profound that it gave birth to a singer-songwriter movement founded on notions about authenticity derived not from popular music -- where interpretive singers and professional songwriters had collaborated successfully for decades -- but from Romantic poetry. Wordsworth's call for a poetry consisting of "the real language of men in a state of vivid sensation" perfectly describes the combination of plain-spokenness and emotional urgency that, at their best, characterized both Dylan's work and that of the innumerable performers who sought to emulate him. To perform songs written by others came to be perceived as inherently false, mere theatrical artifice, as opposed to true self-expression.
These days, of course, with the proliferation of compilations, soundtracks and tribute albums, cover versions of other people's songs are increasingly common. The largely commercial logic behind this is easy to figure out. Why waste one of your own songs on someone else's project? But what does it mean when artists who are strongly identified as singer-songwriters record entire albums of other people's songs?
Two recent releases, "In Spite of Ourselves" by John Prine (Oh Boy OBR-019) and "I'll Take Care of You" by Mark Lanegan (Subpop SP 445), raise that question from contrasting but equally intriguing vantages. Prine, 53, rose out of the folk scene in Dylan's wake and thus was among the unfortunate artists burdened with the "new Dylan" tag. While he has enjoyed intermittent commercial success over the years, he is probably better known for the versions of his songs performed by others -- Bonnie Raitt's "Angel of Montgomery," Bette Midler's "Hello in There" -- than for his own renditions.
Mr. Lanegan, 35, meanwhile, is the lead singer of Screaming Trees, a Seattle band that has been on an extended -- in fact, seemingly endless -- hiatus after rising to prominence during the grunge heyday in the early and mid-'90s. "I'll Take Care of You" is the fourth in his series of increasingly stark solo albums.
On the surface the two albums are as different as they could possibly be. "In Spite of Ourselves" is a fun-loving collection, in Prine's words, of "meetin', cheatin' and retreatin"' country songs on which he sings duets charmingly with nine of his favorite female singers, including Emmylou Harris, Trisha Yearwood and Connie Smith. "I'll Take Care of You," on the other hand, is moody and inward-looking, a highly personal survey of folk (Fred Neil's "Badi-Da"), rhythm-and-blues (the title track, written by Brook Benton and defined by Bobby (Blue) Bland) and gospel (the Sunset Travelers' "On Jesus' Program"). The 11 songs are held together only by Lanegan's infallible ear for their underlying desperation.
Beyond that obvious difference, however, the albums share elements in common that reveal why projects like these appeal to songwriters. Both are spare and often acoustic in their arrangements, stripped down even by the modest standards of these two nonsuperstars. None of the rough edges have been smoothed, which lends the albums the feel of work done purely for enjoyment. Prine had long wanted to do a collection of this kind and, after a bout with cancer, he completed it with the dispatch of someone who no longer sees any reason to hold off doing exactly what he wants to do.
Mr. Prine also chose songs -- like George Jones and Tammy Wynette's "We're Not the Jet Set" or Webb Pierce's "Back Street Affair" -- that are reminiscent of his own. They are tender, casually insightful and often funny, goofy even. The one original song he contributes -- the title track, a duet with Iris DeMent that also appears on the soundtrack to Billy Bob Thornton's new film, "Daddy and Them" -- underscores the connection. Country music has been part of Prine's repertory for years, and "In Spite of Ourselves" could easily be mistaken for a little-known song that the singer had found and decided to record. And George Jones needn't fear Prine's readings. Prine doesn't even try to match the master. In his characteristically friendly, Dylanesque bray, Prine sings with open-hearted enthusiasm of a fan, not a competitor.
Mr. Lanegan also uses "I'll Take Care of You" to demonstrate links between his own dark self-explorations and earlier musical styles. He would be, for example, nobody's first choice to cover Bobby Bland, a singer whose effortless command is the precise opposite of Lanegan's limited range, jerry-built phrasing and reluctance to seize center stage. But Lanegan makes a sharp interpretive tool of his limitations. Given his pained vocal style and haunted consciousness, all the threat, obsession and control implied in Bland's version of "I'll Take Care of You" come aggressively to the fore. Similarly, in Lanegan's hands, "On Jesus' Program" becomes less a prescription for salvation than a hopeless wish from the realms of the damned.
Like David Bowie, who first shattered the values of '60s rock 'n' roll and then acknowledged his debt to them on an album of songs from that period ("Pin Ups," from 1973), Lanegan is also engaged in an act of restoration. Seattle musicians of his generation started out intent on shaking free of the past, determined to speak in a new voice. Once that freedom was achieved, it then became possible to explore and reveal meaningful connections. Lanegan is doing that on "I'll Take Care of You," recasting tradition in the light of his individual talent.
It's often said of the best interpretive singers that they make every song they sing their own. That's not true in either of these instances, and, in fact, it's rarely true when songwriters sing the songs of others. These albums are meant to deepen our understanding of Prine and Lanegan, to reveal the sources of their inspiration and to broaden the perspective in which we view their careers. Their performances are a commentary on the original songs, as well as on their own body of work. As singers, then, they are still, in a sense, writers continuing their complicated journeys along the trail Dylan blazed.