Spring UK/Europe/and More Solo Acoustic Tour
(Volcanic Eruption Tour)
featuring Dave Rosser on Guitar and Duke Garwood opening
review by Lungsey
Mark Lanegan & Dave Rosser ~ Tivoli, Utrecht april 20th 2010 & the
Effenaar, Eindhoven april 21st 2010
Opening Artist: Duke Garwood
How extremely delighted I was to get the chance to go to these shows! A little back-ground information for the non-regulars at the OneWhiskey Forum, because I cannot write a review without coming back to the one
thing that has surrounded my everyday life since march last year: my husband's illness and the fact that he will not be with me for years to come. You ever seen Leonardo DiCaprio in "What's eating Gilbert Grape"
when he blurs out "I could go at any minute"? That is basically my husband's state of mind: he could go at any minute but he is determined to enjoy life until his very last one.
So..... when we heard Lanegan was supposed to play an acoustic tour we were desperate to get tickets but
knew that there was always the possibility my husband would be too ill to see him once the gig was on. Just one of the more complicated things these days: you make plans, stay positive, but never quite know how the
cards are dealt. And then there's the other thing: where going to gigs was never 100% fun for me, phobia-ridden as I am, these days there is also the physical problem that arrises. My husband can't stand up for
say 15 minutes because of this god awful disease, and the same goes for me because apparently our love that has been going strong for 30 years is so symbiotic that I have unwillingly decided to refuse the ability to
walk or stand up for the same length of time. Any gigs these days can only be attended by us if we get chairs to sit in. It makes us feel twice our age and it is hard to have to ask for special treatment. But in our determination to grab life by the throat this is what we do.
So our hopes to see Lanegan play an acoustic set, without Greg Dulli for whom my husband has no love what so ever, where carefully expressed and phonecalls were made. Tivoli in Utrecht made it very clear: if you can't bare to stand, don't bother showing up. The Effenaar in Eindhoven, possibly the shittiest place in Holland (but then again, I am from Helmond - we rule and they stink) had no problem organising 2 chairs for us. Needless to say I rushed to get tickets and was willing to go to Eindhoven. I mentioned on the OneWhiskey Forum how we were going to the Effenaar gig only, because Tivoli lacked proper seats. Much to my surprise I got a message from Raeni asking for our details because she had managed to get Lanegan's management to make sure we'd get seats at the Tivoli gig! Proper seats!! Thank you Raeni!! We were the happiest dutchies in the world, looking at TWO Lanegan gigs in a row. But then came that Iceland Volcano Thingie and we were beginning to think it wouldn't happen.... and the stupid thing is, in our situation it is almost impossible to stay positive and think "we'll catch the new tour if he can't make it this time round" - because who is to say when all hell will break loose in the wonderous world of cancer?
So the Volcano Eruption Tour 2010 did go ahead as planned and we were lucky enough to be part of it. So many fans couldn't come over due to this freak Icelandic crap, .... I truly hope you will all get a chance
sometime and I taped some songs (but can't for the life of me figure out how to put them on bloody Youtube) to share, and am happy to see there's a lot floating around already. A special word for Barriers: my dear we
feel so sorry you couldn't make it over, and yes we have totally enjoyed your hotel-booking, thank you thank you thank you, wait for snail mail etc.
Tivoli Utrecht Setlist:
1. When Your Number Isn't Up
2. One Way Street
3. No Easy Action
4. Miracle
5. River Rise
6. All My Trials
7. Like Little Willie John
8. Don't Forget Me
9. Shiloh Town
10. Message to Mine
11. Can't Catch The Train
12. Mirrored
13. Resurrection Song
14. Roman Wall Blues
15. The Harp
16. Sunrise
17. One Hundred Days
18. On Jesus Program
----
19. Bombed
20. Wild Flowers
21. Hangin Tree
The first thing that absolutely blew me away was the quiet of the audience. During Duke Garwood's opening show I must say there was chitter-chatter and although he is a gifted musician, it is not my cup of tea. Then Lanegan and Rosser came on and threw out When Your Number Isn't Up as if it was no trouble at all, like anyone could do it standing on their heads but it was mindblowingly beautiful, I have never heard Lanegan's voice as clear as this night at Tivoli. Amazing....
Throughout the gig all I could do was just be amazed at the pure sounds, the beautiful harmonies, the silence from the crowd, it was all pretty much perfect. There was the odd sad feeling, let's face it, Lanegan's
music isn't overly uplifting at the best of times, but my attention was mostly drawn by little twists in songs that I had never heard before (the stunning way he sang "So lonesome in my playground, you baby, go
straight to my head" in Miracle) and by songs I don't think I'd ever heard live before (Roman Wall Blues, All My Trials). There was this constant feeling of loss for what me and my husband once had and will
never get back (under normal circumstances I would be sat against a wall somewhere in the back drifting away on Purple Power & Lanegan's voice - now I was sitting on a chair next to my husband and sticking out like a sore thumb) but the happiness of being there with mah man was overwhelming. Something no doctor would have expected, and something I was afraid to hope for. But we made it and it was amazing from start to finish. The funniest part must have been this total look of confusion on Lanegan's face when two roses where thrown onto the stage near the end. God I should have had my camera out then.....
So the very next day............. we left for this godforsaken town called Eindhoven...... checked into the Crown Hotel where we behaved because we promised Barriers..... then walked the 4 minutes to the next venue:
The Effenaar Eindhoven Setlist - pretty much the same:
1. Field Song
2. One Way Street
3. No Easy Action
4. Miracle
5. River Rise
6. All My Trials
7. Like Little Willie John
8. Don't Forget Me
9. A Shanty Mans' Life
10. Message to Mine
11. Can't Catch The Train
12. Mirrored
13. Resurrection Song
14. ????? (someone will fill this in on the Forum, if you've never been;
go to the Forum!)
15. Sunrise
16. One Hundred Days
17. On Jesus Program
----
18. When Your Number Isn't Up
19. Bombed
(- not sure if I missed one here)
20. Wild Flowers
21. Hangin Tree
So this crowd was completely different, or maybe I couldn't get passed the whole Eindhoven feeling. People kept on chatting away like they were mingling at some friends' party. There must have been people there that never actually caught on to the fact that there were two brilliant musicians trying to give a great show. It is a crying shame and perhaps I should have chucked a few of these happy chatty peeps off the bloody
balcony to make a point. But I was keeping things civilized.... regardless of the twats it was still a great show, though Lanegan's voice seemed to give him some trouble, or maybe the soundman wasn't
doing what he needed to do, I dunno, I know fuck all about music. Again, some of the songs blew me away, to hear Lanegan sing so clearly is just a great treat. To me it is the first fantastic clear sounding gig since
the Lola's Lounge boot; I know Lanegan sounded great at the Campbell gigs and the Evening with Greg Dulli ones but this was just..... better. Around the start of the encores it sort of became pretty dark, I think
perhaps the light-dude had buggered off already. It made the last few songs even more intimate, but alas, my camera wasn't taking any of it and, like the light-dude, decided to call it a night. My husband and I had a wonderful, extremely good couple of gigs. We never thought we'd see Lanegan again, and I doubt I could bare to see him when my husband is no longer with me. I feel priviledged to have witnessed this, and am endlessly grateful to Raeni and Barriers to make this such a great experience. Oh yeah, and thanks to Mark Lanegan and Dave Rosser..... excellent stuff! And to Mark Lanegan: thank you for all the times me and mah man got to enjoy your music. Your music has helped me in the past and will help me in my future life, however hard it will get.
And to anyone: if you get half a chance of seeing this tour - go for it!
Do not miss out! (And check the Forum for some really good recordings
and photos!!).
~ Lungs
---
review by Foz (6 Days From Tomorrow)
Mark Lanegan & Dave Rosser ~ Brudenell Social Club, Leeds, UK
April 24th 2010
Opening Artist: Duke Garwood
This almost didn't happen for me, thanks to a slight 'overdoing' last night at a friend's birthday party. All-day hangovers are not great accompaniments to cross-county travel. Anyway, lots of water and a satnav that rather worryingly kept telling me to make sharp right turns on the motorway later, I found myself in the friendly (especially the little fat dog!) and hellishly hot Brudenell Social Club, having absolutely no idea exactly what sort of show we were in store for.
First up, we had the wonderfully melancholy Duke Garwood and his brand of haunted, lonely blues. An amazing talent, Duke manages to create eerie soundscapes from his guitar to accompany his woe-soaked voice.
It's not all misery though, as each song is concluded with a 'thankyou' and a wry, contented smile. Plus a brief comedy moment when he had to pause mid-song to replace his guitar lead that had somehow managed to escape.
Anyone planning on seeing subsequent dates on this tour are well-advised to arrive early, as Duke is an excellent opening act.
And then, onto the main event. the closest I had previously come to a Mark Lanegan solo acoustic event was the "An Evening With" show he did with Greg Dulli and David Rosser in London's Union Chapel, which was a genuinely uplifting experience and would have been almost impossible to top as an event. So, Mark and David very wisely go about this set in a very different manner indeed. Where the shows with Greg were seated (including the artists), almost informal affairs, this was set up almost as a a straightforward no-frills rock set.
Mark and David took to the stage not to a polite smattering of applause, but to a roar from the crowd. the stage, like the rest of the club was tiny and so Mark was pretty much right among the audience , with barely enough room to fit the two artists and the small trestle table where water and towels were available for between-song water/towel related business. And also where the Gutter Twins acoustic shows were carefully-arranged affairs, the songs on offer here from right across Mark's career were offered up as take-it-or-leave-it no-frills affairs that worked perfectly in this environment.
Launching straight into Field Song, the tunes came thick and fast. Early set highlights included Like Little Willie John, River Rise and a beautiful rendition of Soulsavers' Can't Catch the Train. Message to Mine was an oddity that came across wonderfully, Mark and David managing to strip down what is a fairly complicated and layered on on record to just acoustic guitar and voices without losing any of the potency of the song. B-side Mirrored fitted into the set perfectly, and in the same flipside vein, Pink Floyd's Julia Dream is given a downbeat yet captivating airing. In truth, it's not unfair to say that every song performed tonight was a highlight.
It cannot be understated just how good Mark Lanegan is sounding nowadays. His voice is as good now as it ever was, if not better. Every whisper and roar is delivered perfectly, and he can still hit the high notes when called upon, as a flawless delivery of On Jesus' Program and no-holds-barred encore closer of Where the Twain Shall Meet will attest to.
David Rosser also plays his part to perfection. Rollicking rendition of Hangin' Tree aside (where he really lets loose), each song's backing is stripped right down to the bare essentials, leaving room for Mark's voice to add all the necessary colour. His backing vocals also brought an extra dimension where needed.
This was a truly memorable show, featuring remarkable performances from all concerned. And I can't wait to see and hear them again.
Setlist:
Field Song
One Way Street
No Easy Action / Miracle
River Rise
Like Little Willie John
Don't Forget Me
Can't Catch the Train
Message to Mine
Mirrored
Resurrection Song
Julia Dream
Sunrise
One Hundred Days
On Jesus' Program
————————
Encore:
When Your Number Isn't Up
Hangin' Tree
Where the Twain Shall Meet

---
review by Foz (6 Days From Tomorrow)
Mark Lanegan & Dave Rosser ~ Academy 3, Manchester, UK
April 25th 2010
Opening Artist: Duke Garwood
It's always a strange experience visiting this wonderful little venue, as I have been going there for years and keep seeing the same people without ever knowing who any of them are. And the way they look around the room at others and myself, they feel the same way too. A lovely little community then, none of whom have ever spoken to each other during the past two decades, and all of us getting that little bit fatter with each show we go to.
Anyway, I thought I'd struggle with this one – doing a second review of what could have been the same show, only 24 hours later usually means getting the Thesaurus out and doing the same thing over again but with different and longer words. But no! This show was very different from last night's, and not just because the Towel Table was considerably larger than the previous one.
Firstly, the place was absolutely jam-packed. It's a sad fact, but it's time for us to realise that Mark Lanegan is simply too big for the Academy 3 – the speed with which this particular show sold out bears this out. Secondly, it was even hotter than last night. And most importantly, the entire vibe was completely different.
It began with Duke Garwood's opening set – I'm really warming to this guy's work, with his otherworldly guitar playing and general between-song affability. It should also be noted that his guitar lead was looped through his strap this time, to prevent repetition of the previous evening's shenanigans where it made a valiant attempt to escape mid-song.
The sound in the venue wasn't quite as sharp and crisp, lending a more bassy and echoey edge to the music, and Duke seemed to adapt to this well – where last night's set was haunting/ed and ethereal, this one was a little more punchy and direct. All good stuff, and I look forward to doing further listening to this guy next time I have a few spare quid knocking about the place.
And then Mark and David took to the stage, illuminated (if that's the right word – might have to get the Thesaurus after all) in dark blue. No photos from me today, because frankly you could hardly see anything. Which doesn't really come as a huge surprise at Lanegan-related shows, so there you go. Lots and lots of flashbulbs going off again (it was like the club scene in Fire Walk With Me at times!), so somebody'll have a few dozen somewhere…
The sound continued in the same sonorous vein as with Duke's set, and this gave the overall mood of the show a whole different shade. Where Mark was roaring last night, he was slightly more restrained tonight, letting the sound carry itself over and around the crowd rather than throwing it at them. Dave's guitar playing was slightly different as well, adding a more percussive backing to the many songs on offer.
Highlights? Plenty. The setlist was similar (this word is important!) to the previous show, but with some shuffling and some additions. The show opened with When Your Number Isn't Up, with an early-set appearance of Shiloh Town and Where the Twain Shall Meet moved up from its previous encore slot. And on the subject of encores, the list was nicely expanded by the addition of a pitch-perfect and emotionally-captivating rendition of Wild Flowers, a version of Bombed that – in a weird reversal from these sort of acoustic get-togethers – added layers on top of the original, a sublime version of the Screaming Trees' Traveler and Duke Garwood also joined the guys on stage for what we seem to think was a very Middle Easternesque runthrough of Misirlou (a quick check of the lyrics and Connie Francis' barnstorming rendition on youtube seem to concur). If it wasn't, someone drop me a line and I'll edit this as if it never happened.
Off to see Mark & Dave again next week in Nottingham. Can't wait.
Setlist:
When Your Number Isn't Up
One Way Street
No Easy Action / Miracle
River Rise
Shiloh Town
Like Little Wille John
Don't Forget Me
Where The Twain Shall Meet
Message to Mine
Can't Catch the Train
Mirrored
Resurrection Song
Julia Dream
Sunrise
One Hundred Days
On Jesus' Program
————————–
Misirlou (?) Feat. Duke Garwood
Traveler
Bombed
Wild Flowers
Hangin' Tree
---
review by Killian (http://sacredcowpats.blogspot.com/2010/04/concert-review-mark-lanegan-academy-2.html)
Acedemy 2, Dublin, Ireland
April 29th, 2010
Was lucky enough to get to see Mark Lanegan in the tiny environs of Academy 2 in Dublin. The venue is small and intimate, and the best thing about the venue is that the sound is excellent. Nevertheless I wasn't sure what to expect. Lanegan has no album to promote, so is this tour just a money-making exercise between recording commitments? The man clearly has no hobbies beyond music, as he appears to have been constantly recording or touring for the last 6 or 7 years!
The venue was full in anticipation of his first solo gig in Ireland for nearly 7 years. Support act Joe Echo was pleasant enough, a Northern Irish balladeer, with some good tunes and a cheery demeanour, though his voice is pretty average.
So on to the main act. Lanegan shuffled onto the stage, walking through the crows with guitarist Dave Rosser in tow. He played a fair selection from most of his solo albums, while also touching on his collaborations with Soulsavers and Queens of the Stone Age, and also reached back to his Screaming Trees days.
The crowd was mostly pretty respectful, barring a few people chattering at the back. Lanegan himself was in pretty good voice for the most part, at least in his most comfortable range, though he struggled a little with the higher notes. He was his usual gruff self, with little between song banter, just allowing the songs themselves to do the talking.
Some of the songs were transformed in this format, in particular Little Willie John which mutated from bellowing blues on Bubblegum to a kind of muted glory here. It worked really well. Other highlights included obscure B-side Mirrored and Message to Mine. As for his Screaming Trees stuff, Where the Twain Shall Meet struggled a little with the acoustic setting but Traveller got a great reaction.
The funny thing with Lanegan which sets him apart from most artists who've been around as long as he has is that for most artists, the crowd are baying for old favourites. Not so for Mark Lanegan. If anything, the newer Field Songs / Bubblegum material got the best reaction, while older songs such as River Rise and Wild Flowers were received with polite indifference.
Just a word on Dave Rosser, he provided slightly strange sounding backing vocals to some of the tracks but was pretty much overshadowed by Lanegan, whose ability to reconnect with his older material showed a degree of vulnerability not seen since his late 90s days. A minor grope was no new material, but he breathed new life into some of his back catalogue here, showcasing raw emotion in the likes of One Way Street and Resurrection Song.

---
review by ni4979
Roisin Dubh,Galway,Ireland
April 30, 2010

Paul O'Reilly provided support. His gentle strum and sweet voice were hard to discern despite the fact that I was front row due to a poor mic and a very noisy audience. I was somewhat concerned how the show was going to proceed but this proved baseless.
Lanegan and Rosser arrived on stage to a huge cheer and then an abrupt silence as they launched into 'When Your Number isn't Up' and then continued with a great range of songs spanning over twenty years. Some of the highlights for me included 'Jesus Program', 'Don't Forget Me', 'Field Song', 'No Easy Action/Miracle' and 'Traveler'.
There were no gimmicks, just two incredibly talented men, great music and an awed and silent (for the most part!) audience.
They ended the show with an amazing version of 'Hangin' Tree' with the audience singing along. With a wave Mark and Dave left the stage. A truly awesome show.
---
review by Ali Waite
Slade Rooms, Wolverhampton, UK
Sunday May 2nd, 2010
Tonight in Wolverhampton the Sabbath was most certainly not kept holy as the dark Lord Mark Lanegan brought 'that Weird Chill' to the Slade Rooms, as he entranced, mesmerised and wowed the crowd into a dream like state with a perfect hangover cure setlist. It encompassed many songs that people had been waiting 6 years since the 2004 tour to see, or even all their lives for first timers.
Opening with 'When your number isn't up" instantly bewitched everyone as he flowed effortlessly between a Bubblegum and Field Songs heavy set. When he hit the stage the instant silence and respect spoke volume of the true presence and aura that Lanegen has, a similar ubiquity that a Cash or a Dylan has as well. Every syllable, word and song was delivered with as much meaning and intent as they did when he first wrote them. 'Like little willy John' and 'Message to mine' had people trying to stop themselves from singing along with Mark's voice as good as ever, it clearly shows he has been sampling some of the local beverages at recent dates in Scotland and Ireland. His voice was truely unbelievable.
Personal highlight was the impact of Ressurection Song, Sunrise and Hundred days, which when combined sounded like someone trying to find salvation. With every song as tear jerkingly haunting as the next, it was hard not to become completely hypnotised from Lanegans every word. The encore opener 'Traveler' off Screaming Trees 'Dust' album displayed the depth of Lanegans back catalogue as the crowd could barely catch their breath or get another whiskey in as he reeled off gem after gem. Finishing on the anthemic 'Hangin' Tree' was a perfect climax to the evening, which left everyone lost for words, but knowing in their heads they'd seen something really quite special.
When Your Number Isn't Up
One Way Street
No Easy Action
Miracle
River Rise
Shiloh Town
Like Little Willy John
Don't Forget Me
Where The Twain Shall Meet
Message To Mine
Cant Catch The Train
Mirrored
Julia Dream
Resurrection Song
Sunrise
One Hundred Days
On Jesus' Program
Traveler
Bombed
Wild Flowers
Hangin' Tree
---
review by Foz (6 Days From Tomorrow)
Mark Lanegan & Dave Rosser ~ Rescue Rooms, Nottingham, UK
May 3rd 2010
Opening Artist: Duke Garwood
"Uh… we're gonna be doin' this set acapella"
A slight delay with the main act tonight when Dave Rosser's guitar wasn't making any discernable noise, although this was soon solved through the application of (technical term, I believe) a small amount of jiggling, and then we were underway for the last show that I would be catching on this tour.
It certainly didn't disappoint.
Opening with Bubblegum opener When Your Number Isn't Up, Mark Lanegan once more set off through his back-catalogue, ably assisted by David Rosser. Considering this is now some way through the tour, he doesn't hold back a single part of his performance, putting everything behind each line and note as if it was the first night.
Might just have been me, but there seemed to be a bit more urgency to this set compared with others I've seen, with gaps between songs shortened and intros slightly truncated, but this matters not when it's the songs that are important here – each one once more performed impeccably and delivered with absolute clarity in the very cramped confines of the Rescue Rooms tonight.
One thing that was somewhat conspicuous by its absence last week was anything from his Scraps at Midnight album, and this was remedied tonight with a gorgeous, laid-back rendition of Bell Black Ocean, sandwiched nicely between the more boisterous Where the Twain Shall Meet and Message to Mine.
Once more though, the biggest highlight of the set was saved until the encores, and a wonderful version of Wild Flowers that was as expansive and cheerful as the Winding Sheet original is claustrophobic and personal. The twenty year wait to hear it performed live (and then to hear it twice in one week!) is an emotional high for this writer that time will find very hard to erode.
Although I'm sorry that this will be the last of these show that I will be attending (due to not actually being made of money), I am so grateful to Mark Lanegan, David Rosser and Duke Garwood (who had another great night tonight – anyone going to see future shows are well-advised to turn up early) for coming over and truly giving the fans exactly what they want. Brilliant.
Setlist:
When Your Number Isn't Up
One Way Street
No Easy Action / Miracle
Shiloh Town
Like Little Willie John
Don't Forget Me
Where the Twain Shall Meet
Bell Black Ocean
Message to Mine
Can't Catch the Train
Mirrored
Resurrection Song
Julia Dream
River Rise
One Hundred Days
On Jesus' Program
————————-
Encores:
Field Song
Traveler
Bombed
Wild Flowers
Hangin' Tree
review by Ian
Mark Lanegan & Dave Rosser ~ Rescue Rooms, Nottingham, UK
May 3rd 2010
Opening Artist: Duke Garwood
I am still full to bursting with joy having experienced Mark's acoustic show at The Rescue Rooms in Nottingham last night. The man has a unique gift, and it was a beautiful reminder of that fact last night (not that I needed reminding!).
So, first of all we had Duke Garwood and his guitar. Despite poor sound quality (could hardly hear Duke's voice which is a shame because it sounded like he has a good one), the guitar was beautiful...haunting, dark, evocative of standing in a wide open plain in the midwest with a huge blue sky above with the wind whipping around and a coyote howling in the distance. He sounded like he would fit right in on a Mark Lanegan album in fact (and now having "googled" Duke this morning I see that Mark has indeed mentioned something about this). I am having visions of Mark, Duke, some guy with a skiffle board and a few ad-hoc pieces of percussion, and alot of bourbon and cigarettes! If it comes out as good as it sounds in my head, I can't wait!
I must admit, I was having bad feelings about the sound, Duke's natural range wasn't far off Mark's own and at the lower registers in particular it was difficult to hear him. Then Mark and Dave came on and....Dave's guitar wouldnt work :(
Now I was really worried...Mark was giving his wry smile and shaking his head, Dave was talking to the sound guy at the back and shaking his head, I was cringing on the inside and shaking my head. After telling Dave to "jiggle it" there was still nothing, now I am sweating. Is Mark going to get pissed off? I am pissed off in preparation. Phew, OK, disaster averted...Dave plugs into Duke's "channel" and his guitar now has a voice! And so does Mark:
"I thought it would be *less* hassle with this set up!"
haha! (after this Mark says little, as expected, so thanks sound guy for prompting this relative verbosity, and for taking years off my life!)
And now that voice does what it does best....and all my fears about whether it would go the same way as Duke's were disipated in a note, and pure bliss sets in.
The general gist of the set list has been mentioned by reviewers from other shows on the tour, and I agree the rendition of Willie Jones was great. Suprise of the night for me was The Trees "Where the Twain Shall Meet" from Buzz Factory...old skool Trees! what a nostalgia trip *that* was! Hundred Days received the biggest reception, and it *is* a great song. Mark finished the main set with "On Jesus' Program" which isnt one of my favourites (this doesn't mean I don't like it, as I have said before Mark could sing "Mary had a Little Lamb" and I would almost certainly love it!), but it did give us Mark at his most full on vocally, he really belted it out, neck muscles like coiled snakes...
"I'm workin...on the program...everyday - ay - ay"
The only thing missing for me song-wise (well apart from every other song he has ever sang that he didn't sing tonight!) was Badi-da, which would of course have worked perfectly with this format, and maybe given Dave the chance to do what Mark won't and give the audience encouragment to sing along. I know, I know, thats not what Mark's gigs are about, and I am cool with that, but still...would be nice to give reign to the emotion inside and come together in a collective release of voice and mutual adoration for The Man!
At the end I am deeply happy, and after the rather uncomfortable audience experience of The Gutter Twins shows, it has been great to have Mark back.
At the show they were selling copies of a live CD recorded on this tour at Leeds Brudenell Social Club 24/4/10. As a memento of tonight, it is superb, similar format, good sound, Mark in beautiful voice again, and finally an official live recording to cherish. If you get the chance, nab a copy!
---
review by Sabine
Mark Lanegan- Solo Acoustic Tour 2010, 4th, 8th, & 9th May 2010
London/Brussel/Berlin 2010
images can be found at: http://img340.imageshack.us/gal.php?g=berlin1i.jpg
When I heard about the acoustic shows happening in Europe, I immediately made plans to attend several of them. Even though I was very excited about the whole thing, I didn't really know what to expect from the whole acoustic thing so I headed to the London show with mixed feelings. When I arrived at the venue, the sold out show was already packed and Duke Garwood had started to play. I managed to make my way through the crowd and find a pretty good spot. Duke Garwood was playing with a full band and offered us an enjoyable performance, he was very quiet like some other singer we know, so quiet that I could barely understand what he said the rare times he spoke to us. When his performance ended, everybody rushed in the venue and we all started waiting for the man in a growing heat. The show started with When your number isn't up and at the minute Lanegan started singing, I knew we were in for something good. The acoustic setting really enhances his voice and Dave Rosser does an amazing job at accompanying him. I read about him saying that he was really scared to be the only musician on this tour and that he had a lot of pressure on his shoulders but he did an amazing job and both of their talents made for an amazing performance. The set list included several songs from Bubblegum and Field Songs but, if my memory doesn't fail me, only one from Whiskey, we were lucky enough to also hear Can't Catch the Train from Soulsavers, two covers (Julia's dream and Misirlou) and an amazing rendition of Hanging Tree to end the show. People in the crowd were not too chatty, there was a bunch of guys behind me that bothered some people around us because they were singing so loud but I can't say it bothered me because they were really into the show. It was actually really funny to see one of these really scary man yelling at the equally scary man onstage : "I love you, man!" and to see that Lanegan couldn't repress a smile. And people say that girls are groupies... There were several moments like these when people from the crowd made Lanegan smile and I guess this good atmosphere is the reason why after a few minutes, for the first time since the beginning of the tour, Lanegan and Rosser came back for a short, second encore with Field Song. The show ended with this amazing song and I left the venue even more excited for the other shows than I was before.

In my opinion, the show in Brussel was the best of the three shows I attended, even if the amazing city and the cheap beer probably influence my judgement... The venue is one of the best I've ever been too, the quality of the sound is amazing and the setting is great. The venue is neither too big nor too small and you can stand on two balconies if you want to have a good look at the stage. I totally understand why Lanegan always plays there when he tours Europe, he seems to love it and the feeling is mutual as on the venue's website, they refer to Lanegan as their "favourite artist". Once more the show was sold out, but we easily found a spot against the stage as many people were staying in the bar area. This time Duke Garwood was playing alone and I actually prefered his performance like that, it made for a more intimate show and the crowd seemed to enjoy it. Lanegan went onstage right on time and, once more When your number isn't up proved to be the perfect song to begin the show, everybody went silent and I didn't hear a word during the whole show. The set list was basically the same as in London except for the encore. When the show ended, the light went on and the house music went on again but the audience cheered so much that the roadies ended up leaving the stage. After more than five minutes of loud cheering, Lanegan and Rosser had to come back onstage for a second encore. They seemed pretty happy about it and this time, they played two songs: Field Song and Shanty'man life. They both thanked the crowd and unfortunately, this time, they left for good. There are no words to describe how great this show was, god knows I attend a lot of shows, but this one felt pretty special. That's also the only show where there was a full merchandising with the Live at Leeds CD but also all his other albums, hoodies and shirts I had never seen before for both men and women.

The show in Berlin was pretty similar. The venue was packed and we had to go there early to buy one of the last tickets that was on sale that night. I missed most of Duke Garwood's performance as I arrived during the last song, but as people were staying at the bar, once more, I managed to stand near the stage. There were no major changes in the set list and people were pretty respectful except for some guys near the bar that kept chatting until they were told off by someone. The show was great but felt very short, even though the crowd kept cheering for a long time, they didn't come back for a second encore (I was getting used to them!) that's why I probably felt like it could have been longer. The merchandising was stripped down to the Live CDs and, as I bought several of them for people on the board, the guy made me swear that I wasn't gonna sell them on Ebay! It felt weird that it was my last show on this tour as I had gotten used to the routine of seeing them every other days. I strongly encourage anyone to attend at least one show if they have the opportunity, I don't think it could be any better, I was a bit disappointed when I heard the shows were acoustic but it turns out that it's the best way to see a singer like Lanegan, even if he's not quite the showman, his voice is enough to make it an amazing performance.
---
review by GLT
Mark Lanegan- Solo Acoustic Tour 2010, Hamburg, Germany, Uebel & Gefaehrlich
Saturday 8th May 2010
Firstly, before I start this review, I'll apologise in advance if the set-list is slightly incorrect. I'm working from memory a few days after the concert and a combination of the atmosphere and alcohol may mean that my recollection of the song order is not 100%.
The venue itself was very nice, if a little unusual. 'Uebel und Gefaehrlich' is situated on the fourth floor of a WW2-era bunker and once inside it turned out to be a very nice, compact venue, with easy access to the bar and decent standing area in front of the stage, with a few seats even dotted around towards the back of the venue.
Having listened to a very enjoyable, bluesy set from Duke Garwood, there was only a gap of about twenty minutes or so, before Mark Lanegan and Dave Rosser appeared on stage, to enthusiastic applause, before starting of proceedings with a very pleasant but somewhat, haunting version of 'When Your Number Isn't Up'.
Next up is one of my personal favourite Mark Lanegan solo songs (maybe my overall favourite, but it's very difficult to choose), 'One Way Street'. It sounded excellent in this stripped-down version, and provided me with a personal highlight early on in the evening.
'No Easy Action' and 'Miracle' followed up to complete excellent renditions of the three openers from the 'Field Songs' album, before 'Shiloh Town' made an appearance, before a version of 'Like Little Willie John', which sounded excellent as you'd expect, but very-much different from the version that appears on the 'Bubblegum' album.
Another visit to 'Field Songs' was next, with 'Don't Forget Me' which the audience seemed to get into and which personally I felt delivered massively in emotion.
A few cheers went up when 'Where The Twain Shall Meet' was played followed by 'Bell Black Ocean', which began as applause was still ringing out from previously, but which soon had the crowd noise reduced to almost nothing as Mark delivered a beautiful, spellbinding, almost perfect rendition.
'Message To Mine' was also delivered wit great energy and spirit before a slight drop in tempo as an excellent version of Soulsavers' 'Can't Catch The Train' followed.
'Mirrored' was next, which is a song I don't listen to as often as some others of Mark's , but this version was absolutely brilliant and the sparse instrumentation on it seemed to actually give it an extra dimension.
'Resurrection Song' was next which featured some excellent backing vocals from Dave Rosser as well as his efforts with the guitar before a over of Pink Floyd's 'Julia's Dream', which seems to have featured prominently on this tour, which again was very impressive indeed.
'River Rise' was up next, with Mark again demonstrating his fantastic voice, and the musical combination of both he and Dave really flourished on an outstanding delivery of 'One Hundred Days'.
'On Jesus Program' rounded off the set, and after saying 'thanks' to the audience, both Mark and Dave headed backstage, while the audience clapped and yelled, in anticipation of further entertainment.
It was not long before we were rewarded as Duke Garwood returned alongside Messrs Lanegan and Rosser to perform 'Misirlou' and a great version of Screaming Trees 'Traveler' (which for me, being a huge fan of the 'Dust' album and having never had the pleasure of seeing Screaming Trees live, was very much a treat).
A delicate version of 'Bombed', followed by an equally delicate and moving rendition of 'Wild Flowers'.
The set was rounded off by 'Hanging Tree' on which Dave Rosser put in a very energetic guitar performance, and to which Mark brought his usual, unique and exquisite vocals.
Following that, it was the end of the set, but from a personal standpoint, not the end of the night, as waiting for a friend afterwards, I got to bump into Duke Garwood and Dave Rosser, who popped out for a drink, and who were both very happy to stand and talk and mingle with us fans, and then also Mr Lanegan himself, who was also very nice and didn't seem to mind taking the time to sign a few autographs and pose for photos (though not being the tallest person in the world, I did feel very short, when next to Mark Lanegan).
All in all a great night, with my favourite singer performing amazingly and one which I think will be very hard to better. Setlist: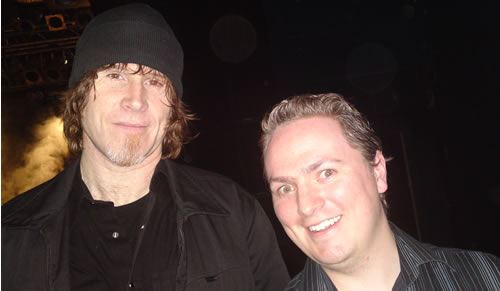 When Your Number Isn't Up
One Way Street
No Easy Action
Miracle
Shiloh Town
Like Little Willie John
Don't Forget Me
Where The Twain Shall Meet
Bell Black Ocean
Message To Mine
Can't Catch The Train
Mirrored
Resurrection Song
Julia Dream
River Rise
One Hundred Days
On Jesus Program
Encore
Misirlou (with Duke Garwood)
Traveler (with Duke Garwood)
Bombed
Wild Flowers
Hanging Tree
---
review by Guilanz
Vienna, Austria, Flex
12 May, 2010
It had to happen someday, after 20+ years of seeing Mark Lanegan performing live. Planets got all aligned.
1. The show started EARLY, before the scheduled time, without any diva ennerving waits.
2. Flawless soundcheck
3. Mark looked good, his voice sounding better than ever.
4. The venue (Flex), a long dark tunnel under the subway tracks, had great acoustic and was almost full. Even getting drinks at the bar turned out to be easy for a change.
A surprisingly youngish crowd welcomed his Majesty.
A goosebump show, with a setlist mostly from Bubblegum and Field Songs. In no particular order, Mark sang:
- When you number isnt up (excellent kick-off, set the tone for the rest of the show)
- 100 days
- Bombed
- Like Little Willie John
- Message to mine
- Wildflower
- River rise
- One way street
- Dont forget me
- Resurrection song
- Shiloh town
- On Jesus program
- Where the twain shall meet
- Traveller
and three or more numbers, sorry no recollections (I was kinda beersighted). The acoustic pitch of Dave Rosser (for few numbers joined onstage by Duke Garwood) was simple, gentle, and restrained.


thanks to Chris for the poster!
In such acoustic set-up I would have expected to hear "Carry home", but - hey - shows must have surprises (who can picture "Twain shall meet" acoustic?).
After so many incarnations, recordings, partners, shows, Mark Lanegan - alone - seems at his very best. Intimate, evocative, inspired, professional, genuine, and original.
Too irritatingly perfect?. :)
Anyway, thanks Mark for coming down all the way to Austria. Yes, it will be the show of the year.
And hope some of the 20 something shoegazers in the audience will toss some garbage from their mp3 players, letting in your fascinating catalog. Best wishes from Vienna.!
GL
Am very glad I was able to see several incarnations, and quite different shows. This soft spoken acoustic tour will be remembered hopefully not just by adoring fans. No cheesiness and un-necessary twinking.
review by Yvonne
Vienna, Austria, Flex
12 May, 2010
Before I get to the show itself I will start with a couple of words about the venue, which was the Flex, situated at Vienna's Donaukanal.
The flex is a club and concert venue and although it`s a great clubbing location, I don't really like it for shows as it's a long and rather smallish room which usually means that you don't see much of the stage or the performers unless you get to the front rows.

Altough the Flex was quite full (and incredibly hot) we got lucky in this aspect and managed to get a place to the left side of the stage only a couple of rows back.

Duke Garwood started his set at around 8.30 and it was the first time I got to hear him live as I missed him last year when he was opening the "Evening with Greg Dulli & Mark Lanegan" show in Vienna's WuK because I arrived there late.
Mark Lanegan was scheduled to start at 9.30 but there was only a break of about 20 minutes, before Mark Lanegan and Dave Rosser appeared on stage and started the show with a haunting version of "When Your Number Isn't Up" a good 10 minutes early.

One of my personal favourites of the evening was "Mirrored", a song I have always loved but would never have expected to hear live one day and the sparse instrumentation really suited the song very well adding to it's general atmosphere.
"Message To Mine" and "Resurrection Song" were other personal highlights, both songs being absolutely mesmerizing live as well as a downbeat version of Pink Floyd's "Julia Dream".

Were I was standing the crowd was pretty respectful and there wasn't a lot of chattering or other disturbances, the audience really listening to the performers attentively.

In conclusion it was a really great show with incredible perfomances from all concerned and my first opportunity to see a solo show from Mark Lanegan which made it all the more special for me.
Can't wait for the next opportunity to see him live!

The show lasted around 65-70 min and the complete setlist as far as I remember was:

When Your Number Isn't Up
One Way Street
No Easy Action
Miracle
River Rise
Shiloh Town
Like Little Willie John
Don't Forget Me
Where The Twain Shall Meet
Bell Black Ocean
Message To Mine
Can't Catch The Train
Mirrored
Resurrection Song
Julia Dream
The River Rise
One Hundred Days
On Jesus' Program

Misirlou (with Duke Garwood)
Traveler (with Duke Garwood)
Bombed
Wild Flowers
Hangin' Tree

---
review by Riccardo
Milan, Italy, Magazzini Generali,
May 13, 2010

ok, let me try to write some word about.
yesterday I was in Milan with my girlfriend and two our friends. We live near Florence, so we have to do a 300 km (187 miles) trip and when we can we make a "culture day", matching concert in the night with museum or art exhibition in the afternoon.
the other time there were Gutter Twins in Milan we saw a very beautiful Bacon exhibition, another time we did Alela Diane with Hiroshige in Rome and so on... this time we matched Lanegan with Schiele. but I'm here not to talk about painting but about music, so go on!
both italian date, Milan and Rome, are sold out from days, and I was happy about that. what I didn't expect is to see some ticket-tout outside the venue since two hours before the show!!!
Magazzini Generali is a venue three metropolitan stop far from Milan center, after we find parking in front of the venue, we go to Palazzo Reale to see art exhibition and after we make a short tour in Milan.
When we came back to the car to leave shopping bags with Schiele's exhibition catalogues and take jackets - there were 7pm, and we know concert will started at 8.45 with duke garwood - and while we were
talking to go to a japan take away in the proximity to quickly make a dinner, a man come closer to us asking if we wanna some tickets!! I ask him how much he want for and he answered 35 euros (in presale was 22
euros), I told him no thanks, and we go; but after some meters another man asked the same question, quikly we realize there're 4 or 5 ticket-touts outside the venue, we cursed two or three times and we went
to eat.
While we caming back to the venue we saw Lanegan, Rosser, Garwood and others people back of us quickly walking. At the corner with the venue street there was a ticket-tout which asked us if we wanna a ticket, I answer no thanks and told him why don't you ask to this people that are coming? So we so this ticket-tout ask to Lanegan and co. "biglietti, volete biglietti per il concerto?", just after this happens I told to
Lanegan in a sarcastic way "do you wanna a ticket? They sell tickets!!", Lanegan make a sardonic smile curling half of is mouth and turning up is eyebrow while going on straight to the venue. We and other people laugh, take a look to the ticket-tout considering it like a piece of crap and went to the venue.
At the show, in the crowd there were Manuel Agnelli and other people from Afterhours, and some other italian musician as Cesare Basile. Concert was great, even if a little short, just 65 minutes to make the,
now standard, set!! but that are Lanegan's standard and the man was in great form!! I hoped, and with me many other peaople, for a second encore, but nothing.
I hope all you will have opportunity to see Lanegan in this acoustic way because it's a great event!!!
There're still selling Leeds cd, my girlfriend bought one to me as gift, sorry I didn't buy more because financial problems, really sorry about that. They sell them at a little high price, 15 euros for a cd-r it's a
little bit much I think.
Sorry for my bad english.
Ciao, Riccardo
Magazzini Generali setlist:

when your number isn't up
one way street
no easy action
miracle
shiloh town
like little willie john
don't forget me
where the twain shall meet
bell black ocean (not performed!!!)
message to mine
can't catch the train
mirrored
resurrection song
julia dream
the river rise
one hundred days
on jesus' program
misirlou (feat. Duke Garwood on guitar)
traveler (feat. Duke Garwood on guitar)
bombed
wild flowers
hangin' tree

---
review by Tanja http://www.music-photocalypse.net/reports/lanegan.php
Helsinki, Finland, Nosturi
May 24, 2010
Mark Lanegan - The voice in your head
Mark Lanegan is one of the very few heroes of Seattle grunge scene who is, luckily, still alive and kicking. It is really hard to put words together when writing about such a musician. You have to see his performance and experience the impact of his unbelievable voice yourself to understand what I am talking about. However, I'll try to do my best to make you realize why you had to be there in case you haven't.
The news about Lanegan's European acoustic tour came about 2 months ago and since then it was impossible to shake off the tingling feeling brought by the waiting and excitement. Helsinki was left for the dessert on the very last date of the tour – 24th of May. When the day had come, we invaded the sold out Nosturi club to be a part of what I can absolutely consider to be one of the best shows I have ever seen.
Mark came out on stage and without any kind of foreplay started the concert with "When Your Number Isn't Up" and it was better than anything he could have possibly said instead. Lanegan truly doesn't need any introductions. You should know that you won't see much interaction with public, any chit-chats between the songs, any smiles or flirting with girls in the front row. His attitude is made of steel; he will come out, sing his songs standing on the same spot with eyes closed, and leave you wishing the show would never end.
For this tour Mark combined some of the pearls from his discography as a solo artist, at least half of the set coming from "Field Songs" (2001) and "Bubblegum" (2004) albums. He also added compositions from his past and current side projects, such as Soulsavers, Screaming Trees and Queens of The Stone Age. The cherry on top of the cake was the cover of Pink Floyd's "Julia Dream".
Somewhere between the songs Mark introduced the only other musician on stage – Dave Rosser, who was the accompanist during this tour. He played guitar and did the backing vocals adding more perfection to the show. This concert was one of the rare occasions when absolutely everything was right. Each song received loud cheers from the crowd; especially "Like Little Willie John" got the warmest reception. I have to give it to the Finnish audience; for once they were extremely respectful and silently listened to the songs, probably being too overwhelmed.
Meanwhile the show was going on. It felt like Mark's voice made the air more thick, it literally filled you from the inside and gave you chills. It's an addictive feeling: when Lanegan doesn't sing - the silence is insufferable. He didn't come up on the stage for the public's entertainment; he was there to make you realize that you'll do anything to hear some more.
A lot of performers bring huge shows with them, they blow up pyros, they have amazing lights on enormous stages, etc. Then there are unique ones, like Mark Lanegan, who only needs one acoustic guitar and a voice so out of this world that it makes you wonder why you wasted your time watching everything else.
He didn't say much at the end of the show either, yet he thanked the audience and told them they were wonderful. He never gives any empty promises to come back again, because you'll be there if he does. The tour is officially over now and we are "thirsty with nowhere to go".
Set-list:
1.When Your Number Isn't Up
2.One Way Street
3.No Easy Action
4.Miracle
5.Shiloh Town
6.Like Little Willie John
7.Don't Forget Me
8.Where The Twain Shall Meet (Screaming Trees)
9.Bell Black Ocean
10.Message To Mine
11.Can't Catch The Train (Soulsavers)
12.Mirrored
13.Resurrection Song
14.Julia Dream (Pink Floyd cover)
15.River Rise
16.One Hundred Days
17.On Jesus Program
18.Traveler (Screaming Trees)
19.Bombed
20.Wild Flowers
21.Hangin' Tree (Queens Of The Stone Age)